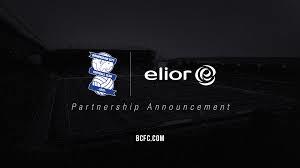 - News / Press Release - Press release
New partnership on the menu at Blues - Birmingham City FC
Birmingham City FC is adding to its summer signings with a lucrative new five year partnership contract worth £13m with Elior UK, which will become the Club's new catering partner.
The five-year deal will see Elior provide catering services for matchday fans, hospitality, general admission, and conference and event services at St. Andrew's, starting from Thursday 1 July.
Elior brings a wealth of sporting experience to the Club, as well as award-winning customer service and expertise in stadium catering. Its pioneering approach to food and drink will bring the latest digital innovation to B9, launching a fully cashless service, click-and-collect ordering through its innovative Breaz app, and upgrades to the hospitality suites.
Ian Dutton, Chief Commercial Officer at Birmingham City FC, said: "The new partnership with Elior will benefit every match-going fan, corporate partner and attendee at our events. Elior really impressed us during the tender process with the team's forward-thinking approach to hospitality and the investment package that will upgrade our offering. We are really excited about working alongside Elior over the coming seasons."
Kenny Finlayson, Managing Director at Elior said: "This is a fantastic partnership for Elior and we truly believe this will be a long and successful relationship. Our shared goal is to deliver exceptional food and drink experiences to all spectators and guests at the St. Andrew's. This will be led by our investment in general admission and hospitality areas and a fresh and innovative approach to our catering offer. Exciting times ahead." 

Birmingham City Football Club's new catering partner will commence on 1 July 2021.
Leading the way in sports and stadia contract catering, Elior has won a number of prestigious awards in recent years. These include Stadia of the Year, Sports & Leisure Catering Awards. Elior UK Star Site, Best Specialist Entertainment Venue Awards, Best Bar None, National Champion, Best Bar None.