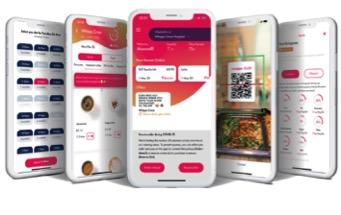 - News / Press Release - In the media
Elior increases focus on tech to help sites re-open safely
Elior UK has announced a suite of tech-focused measures including holographic employees to help sites re-open safely.
As well as the standard distancing measures, the leading contract caterer will be offering sites the services of virtual employees who can remind customers about the importance of social distancing and give advice in a safe, yet humane way.
Mark Hall, mobilisation, design, install & estates director, Elior UK, says: "Technology has a huge role to play in the future of our industry – not just in its safe re-opening, but in instilling long-term confidence in hospitality employees and customers.
"We're using a number of technologies to ensure this safe re-opening and ongoing success of our sites. From the more expected tech, like app ordering and payment, digital thermometers and touch screen kiosks, to more innovative solutions like self-service temperature-controlled food lockers, and holographic employees who can give warm, friendly and genuine advice safely. With 53% of consumers still saying they feel anxious about Covid-19 * it's measures like these that will go a long way to provide reassurance and help ingrain a feeling of safety."
The increased tech offer is part of a wider support package to help clients re-open safely.
* Source: Mintel June 2020