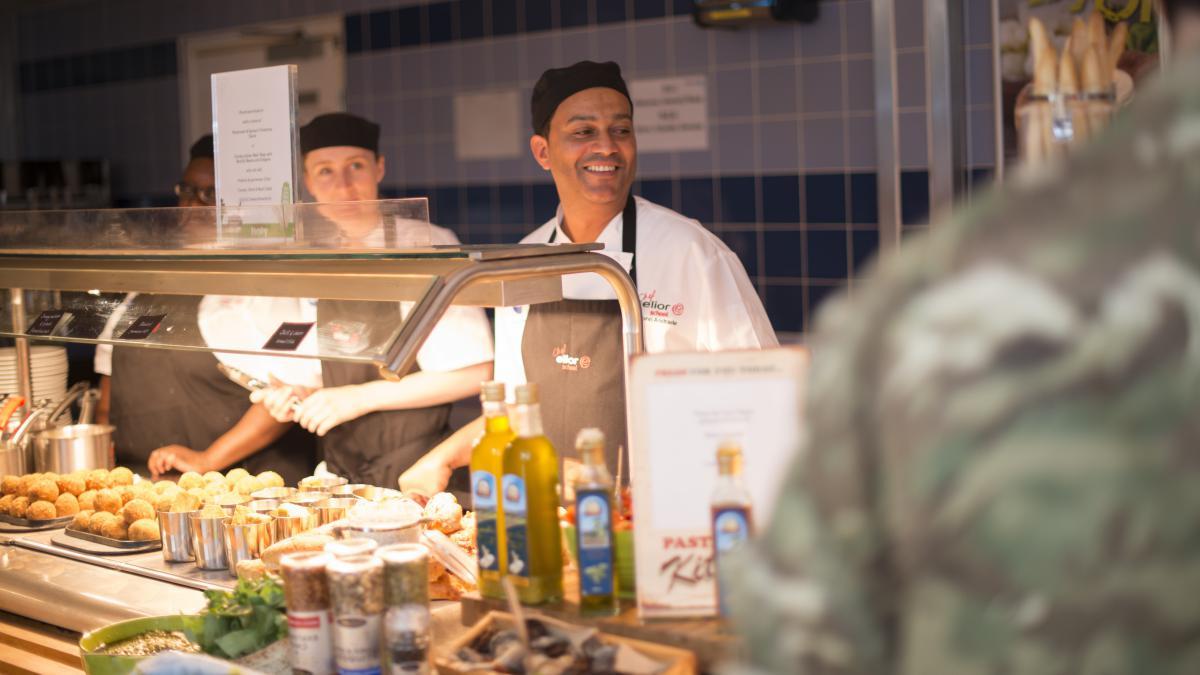 - News / Press Release - Press release
Amey launches 'Partnership for Success' with Babcock and Elior UK to bid for MOD's UK Defence Training Estate Support Contract
Amey, a critical supplier of facilities services to UK Defence, has announced it will bid to secure the UK MOD Training Estate Support Contract (TESC) contract supported by Babcock International Group plc and Elior UK. 
The contract provides industry support across a range of services across the UK MOD's Defence Training Estate.  The Defence Training Estate covers 200,000 hectares, equating to approximately 1% of the UK's landmass, and is used for training for all three of the Armed Forces. This important contract, valued at approximately £800m, delivers industry support to training and integrated facilities management, encompassing built estate facilities management, catering, accommodation and cleaning services, rural estate management, grounds maintenance.
Together, the team brings a unique blend of skills and experience and an understanding of the requirements of the MOD. Amey and Babcock bring unparalleled skills and experience of the UK's Defence Estate and training support; Amey as the incumbent currently supporting virtually all of the MOD UK military built infrastructure and Babcock as the foremost provider of training services to the MOD.  Amey and Babcock also have a proven track record of delivering successful MOD contracts both independently and through ALC, a 15-year Joint Venture.
Elior UK is a leading catering and cleaning provider, delivering services throughout the UK. It has a wealth of experience in specialist Defence catering, cleaning and retail services and delivers contracts across MoD Hebrides SFM, the FMSP Portsmouth Dockyard and previously within three large Defence SMACs – Wessex, East Midlands and Kent.
The tri-party relationship will be led by Amey and managed collaboratively to incorporate best practice and world class innovation to enable transformation and optimise outcomes for the Defence training enterprise. The depth of Defence Estate knowledge and the strong, collaborative relationship that exists between Amey and the Defence Infrastructure Organisation (DIO), will ensure a seamless transition of service with a focus on maximising technological developments and innovative solutions to drive continuous improvement and underpin transformation.
Craig McGilvray, Managing Director for Secure Infrastructure at Amey, said: "Amey remains committed to supporting the MOD in their intent to improve the experience of the Armed Forces where they work, live and train. The unequalled capability and capacity of Babcock and Elior will allow us to draw on the vast knowledge and experience of all parties to ensure we deliver a safe, compliant, affordable and sustainable estate, remaining sensitive to social, environmental and heritage considerations, and deliver the improvement and innovation necessary to transform the Defence Training Estate to meet the expectations of Defence and other users today and tomorrow".
Sam White, Managing Director, Defence, Babcock Land Sector, commented: "This venture with Amey and Elior UK will provide the MOD and the Defence Infrastructure Organisation with an unparalleled offering. It draws together the best in class capabilities and transformational credentials of each company to deliver a step change in service delivery to the Defence Training Estate.  This approach recognises the MOD's desire for modernisation outlined in the recent Defence Command Paper and its aspirations for an environmental approach as detailed in the Climate Change and Sustainability Strategic Approach.
"Babcock is a key provider of training support to the MOD and largest provider of individual training to the Army, delivering training to over 50,000 soldiers annually, while also delivering strategic training contracts to the Royal Navy and Royal Air Force.  Such a wealth of experience gives Babcock unequalled understanding and capability to bring the best of industry practice and innovation to the Defence Training Estate to underpin training transformation ambitions across the Services."
Stewart McCulloch, Head of Sales UK at Elior UK, commented: "The partnership with Amey builds on our successful relationship delivering large-scale projects with Babcock International Group. Together we offer a compelling proposition of complementary infrastructure and facilities management expertise that will deliver huge benefits and value to the Training Estate Support Contract.
"We are committed to delivering a step-change in both the quality of nutritious food and the whole catering and cleaning experience itself. Over the last year we have demonstrated we can adapt quickly and are leading the way with regards to technological innovations. Our teams across Elior are providing leading catering, hospitality and cleaning services to over 1,400 clients all around the UK, delivering over 17 million meals annually, from those located in large cities to more remote and isolated areas."
The formal tendering process has begun, with contract award forecast for Apr 2022 and an In Service Date of September 2022.